Furniture and its upholstery might not be something you think about cleaning regularly, but really it should get a thorough professional clean from upholstery cleaning experts at least once in a while.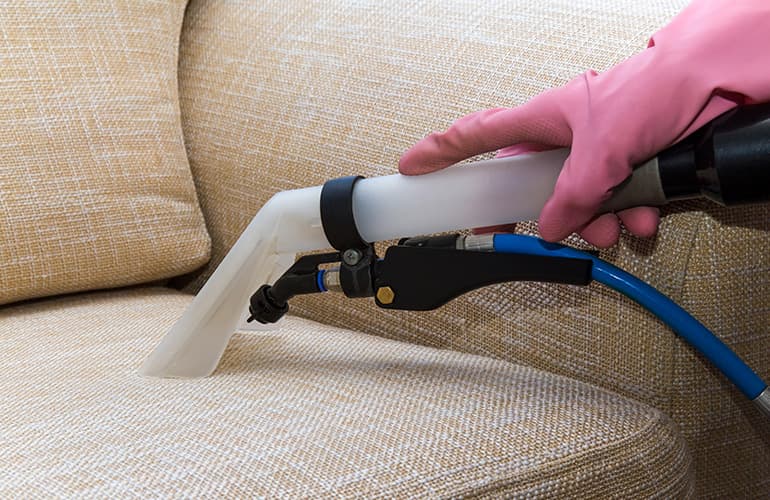 Whether your lounge and matching chairs are covered in fabric or leather, they will get a build up of sweat, grease, grime, suffer from spilled drinks and dropped food, dirty shoes or feet placed on them. Your furniture really can become a breeding ground for bacteria.
If you really think about it, your furniture cops a lot of abuse and wear and tear. Not cleaning the fabric on your sofa or chairs is akin to wearing the same shirt for months without giving it a wash. You would never do that (well, hopefully you wouldn't), so why neglect to clean your furniture?
Furniture doesn't need a thorough clean every single week, but every now and then professional upholstery cleaning will revitalise your furniture, kill off bacteria, remove built up grime and make it look, feel and smell fresh and new again.
Upholstery Cleaning
At New Life Cleaning we perform a 5 stage upholstery cleaning process:
The fabric is first sprayed with high quality upholstery cleaning solution
Agitating the solution with a brush or pad then spreads the solution throughout the fibres, ensuring separation of dirt
Following this is a steam cleaning with hot water, then a vacuum and a fibre rinse to remove all soiling
Stubborn stains are then treated
An optional fabric protector is applied
Leather Cleaning
Leather may look like it doesn't get as grimy as fabric, but it still gets a build up of sweat, grease and other debris, which can lead to the leather drying out and cracking up. To avoid this happening, a quality leather cleaning on occasion will do your leather furniture wonders.
First the leather is professionally and meticulously cleaned, then a leather conditioner called SABA is applied, to help protect your furniture and keep it soft and supple.
Carpet Cleaning
Quality carpet cleaning is one of the specialist services we provide at New Life Cleaning. Our aim is complete customer satisfaction and you won't find a more thorough carpet cleaning company on the entire Sunshine Coast than New Life Cleaning.