Cleaning tiles, and especially the grout between them, can be a really arduous process for the inexperienced or uninitiated.
That's why it's best to call in the experts to take the hard work out of tile and grout cleaning. After all, you've got better things to do with your time than be down on your hands and knees, scrubbing at those stubborn grout stains with bleach and an old toothbrush. And there is little point in having nice shiny and clean tiles if the grout remains dirty and ugly. It detracts from the entire appearance and cleanliness of your kitchen, bathroom or anywhere you have tiles or stone.
The humble bathroom tile is considered one of the toughest tiles on earth to clean; especially if it is not cleaned on a regular basis. A build-up of bathroom plaque from soaps and shampoos, dirt and grime can really stain those tiles and especially the grout. And then there is mould and mildew that breeds in these moist, steamy environments.
Kitchen tiles and grout also have their own set of unique problems created by food preparation, fats and oils, spillages and the list goes on. But whether it's wall or floor tiles, kitchen tiles, bathroom tiles, patios or splashbacks, tile and grout cleaning can be damn hard work if you don't call a professional cleaner in to do the work.
Breathe new life into your tiles by calling in the tile and grout cleaning experts at New Life Cleaning. We give you a new, powerful, fast and safe tile cleaning process, so get up off your knees and put that toothbrush away. If you want quality tile and grout cleaning with amazing results, call New Life Cleaning to get the job done!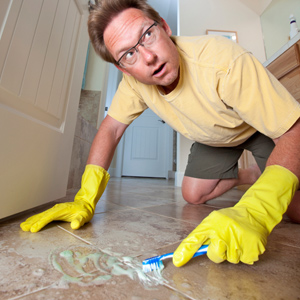 Our team has over 10 years experience in the tile and grout cleaning business and we take immense pride in our work, ensuring complete customer satisfaction. The New Life Cleaning team is renowned for being friendly, punctual and very reliable.
Using a specially developed pre-treatment solution and our high-pressure, hot water rinse, we can restore and clean all your stone, ceramic tiles and grout surfaces in no time. Your kitchen, bathroom and tiled floors will be gleaming, looking fresh and rejuvenated, free of the build-up of bacteria, dirt and grime. We guarantee you will see great results anywhere in your home:
Bathroom floors
Showers and tubs
Kitchen floors
Tiled foyers and entryways
Tiled halls
Sunrooms
Countertops and more
We recommend using a sealer on your grout after it has been cleaned. This provides an extra level of protection as it seals the grout, making it resistant to spills and stains, keeping the grout and the surface looking cleaner for much longer.
Don't stay down on your knees with that toothbrush for a moment longer. Get to your feet and pick up the phone instead. For professional tile and grout cleaning Sunshine Coast, entrust your home to the experts at New Life Cleaning. Give us a call today.