Carpet Cleaning
While our competitors use what we consider to be "toy equipment" to clean your carpets, at New Life Cleaning we believe in using only the highest quality gear for carpet cleaning so we can be sure the job is done right and to your satisfaction.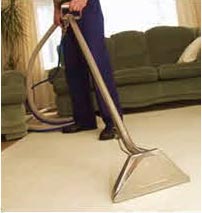 We use a carpet steam cleaning machine that is truck mounted. Our system produces the highest quality steam and has the muscle to give your carpets the deep clean that they deserve. If you want the job done right, then calling in a carpet cleaning professional is only half of the answer. The other half is using the right equipment to do the service.
A clean carpet is a healthy carpet, and as we become increasingly health-conscious, it's important we keep our carpets clean and free of dirt, giving us peace of mind for the health of our children and ourselves. Our carpet cleaning system really gets down into the carpet. New Life Cleaning uses a special scrubbing machine that distributes the carpet shampoo through specially designed brushes. These brushes gently agitate the shampoo into the carpet fibres, loosening the most stubborn ingrained dirt. Leftover carpet cleaning solutions can act as a magnet for dirt, that's why New life Cleaning's exclusive 4 step carpet cleaning system includes an essential extra step. That step is a specially formulated pH-balancing rinse that removes the cleaning solution residue and deep-down dirt, so all that's left behind is a cleaner, softer and more beautiful carpet.
The New Life Cleaning 4 Step Process
Professionally trained, insured carpet cleaning technicians arrive at your home. They start with a pre-inspection to identify problem areas, then the New Life 4 Step Deep Clean gets to work to make your carpets cleaner and healthier:
We thoroughly vacuum your carpet to remove loose dirt.
We apply the carpet shampoo through our special scrubbing machine which gets deep into the carpet fibres to loosen ingrained dirt.
Next is the high-powered extraction process and pH-balancing fibre rinse to remove the dirt and cleaning solution, leaving your carpet as clean as it can be.
Your carpet is groomed, allowing it to dry faster.
Optional carpet protectors and deodorisers are then recommended. The application of a carpet protector helps to restore the protective properties of your carpet, making it much easier to care for.
The New Life Cleaning Service
New Life Cleaning offer a 24/7 carpet cleaning service with a very quick response time. We believe in absolute customer satisfaction and punctuality, but in the unlikely event we are running late, we will be sure to let you know. With more than 10 years experience in the carpet cleaning industry, our team can breathe new life into your carpets, rejuvenating them with a clean, fresh appearance and smell. And most importantly, your carpets will be a much healthier environment for you and your children.
For all your carpet cleaning Sunshine Coast, look no further than the expert team at New Life Cleaning. We take great pride in a job well done.