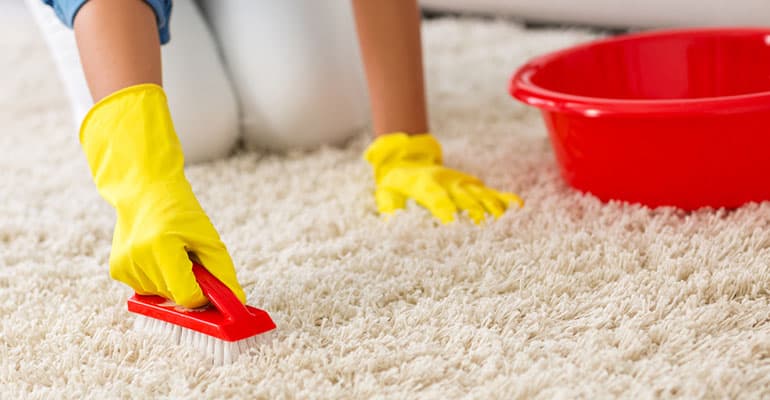 While cleaning your carpet yourself may seem like a great way to save money, if not done correctly it can cause damage to your carpet and end up costing you more. If you are considering cleaning your carpet yourself, then be aware of these DIY carpet cleaning risks.
Mould breakout
If you don't clean your carpet correctly and ensure that it dries out, you can end up with mould growth (especially in humid places like the Sunshine Coast). Not only is this unsightly, but it is harmful to you and your family's health.
Bad odours
If you don't get your carpet dry in time you can end up with a musty-smelling carpet. Damp carpet can not only lead to mould and mildew growth, but it can also make your carpet more susceptible to picking up dirt and grime.
Delamination or deterioration
Delamination occurs when carpets split from their secondary backing. This can happen if there is excess moisture beneath the carpet. Deterioration on the other hand is when your carpet fibres start to break down. This can be caused by overly abrasive cleaning products or tools (such as scrub brushes).
Shrinkage
If you do not dry out our carpet quickly enough following a large-scale spill or flooding, your carpet can shrink and pull away from the wall. If your carpet becomes drenched, it's always best to call in professional carpet cleaning services.
Bleaching and discoloration
Some carpet cleaning products can do serious damage to your carpet. In fact, some stain removers can leave you with patches of bleached or discoloured carpet.
If you don't want to risk DIY carpet cleaning, contact New Life Cleaning today. Based in Noosa and servicing the entire Sunshine Coast, we use high powered machines to steam clean your carpets. Our special 4-step process will remove deep down dirt and leave you with cleaner, softer, more beautiful carpet.