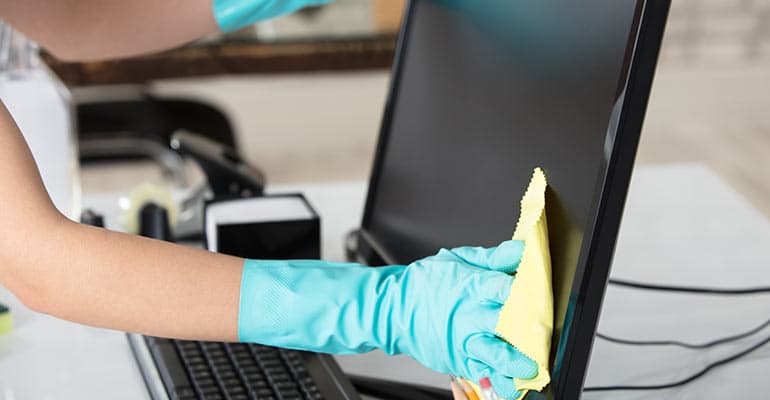 Be it at home or the workplace, ensuring hygiene is kept to a high standard is important. A hygienic environment keeps us healthy and can stop the spread of germs. But, did you know that maintaining the hygiene of your office by using a commercial cleaning service can help you improve the bottom line of your business?
Better hygiene results in more productivity
Studies have found that a clean and hygienic environment increases the productivity rate of employees. Therefore, a commercial cleaning service is a wise investment, the more productivity, the better your returns. By maintaining a regular cleaning schedule, you can also avoid the spread of germs, which will reduce business days lost to sickness.
Make a great first impression
A dirty and unkempt office will give your clients a negative perception of your business. This could put off potential clients or discourage current clients. By maintaining a clean office, you will impress your clients and reassure them of your professionalism.
Keep your workstations tidy
Many companies rely on computers and other technology to keep their business running each day. Without proper maintenance and care, your computer can build up with dust which can lead to costly repairs or replacements. With a commercial cleaning service, you can ensure that each employee's workstation is clean, neat, and tidy.
Commercial cleaning is a wise investment
While commercial cleaning may cost you upfront, maintaining a comfortable and clean working environment is essential for any successful business. Commercial cleaning is a wise investment that will save you time and money in the long run.
When it comes to choosing a commercial cleaning service, don't settle for less. Available from Mooloolaba to Maroochydore, Noosa to Buderim, and everywhere in between, New Life Cleaning wipe the floor with our competition. With more than 10 years commercial cleaning experience and a range of cleaning products and equipment, we guarantee a job well done.